1. What is the name of your Etsy shop? Seek4Peace
3. What kind of items do you sell in your Etsy shop? So far, we only have one TShirt there, though there are more shirts and other novelty items, such as mugs, sports bottles, stickers, etc, coming in the next few weeks and months.
4. What is the price range for your items? Our TShirt is $15,00. I am guessing that once we are fully stocked that we'll be between $3,00 and $25.00
5. What is your favorite item you currently have listed in your shop(please include the link to the item)? Love is Greater Than Hate TShirt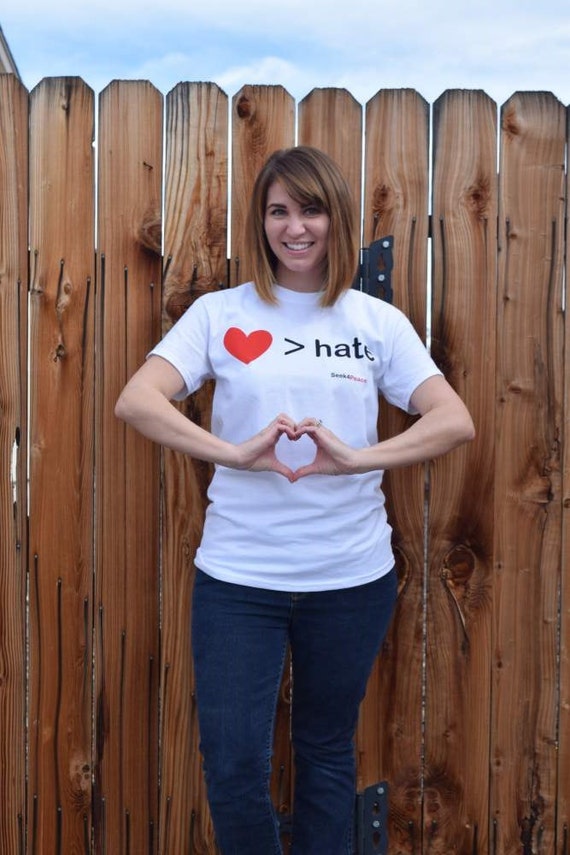 Retails:($15.00)
6. Where are you and your shop from? Carson City, NV
7. What is something you would like your future customers to know about you or your shop? My business was opened when my daughter had the idea to gather up donations for the families of the victims of the Paris shootings in November 2015. We decided that the best way to do that was to run a business where a portion of all proceeds would go into a trust fund for scholarships for kids who've lost parents to violence or terrorism. Our products will all be geared toward encouraging people to be the best they can be and to love others. So far, it's been a lot of work, but also a lot of fun. We look forward to the day when we'll have enough to award that first scholarship.
8. What do you think makes your stand our from other Etsy shops? What makes us stand out is that this whole idea came about from my 13 year old daughter's desire to help others. I'm very proud of her for that and want to help her in that effort in any way that I can. This Etsy shop is only one way that we are working it. We also have a website (seek4peace.com), and also have another forum we sell on, not to mention the work we are doing locally here in Northern Nevada.
9. How long has your shop been opened? We have been opened since January 2016.
10. Any upcoming plans for your shop? Expansion. Expansion. Expansion. We are currently working on our next 2 TShirt designs, which will be followed shortly thereafter with some mugs. There is a possibility that we will be doing some fundraisers for local organizations as well, so that should be fun and challenging. But one way or the other, we'll be growing significantly in the coming weeks and months, so please keep an eye out for us!