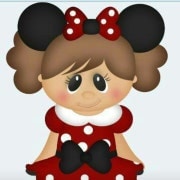 I am so excited to be sharing this product with you all today. You all know I have a huge love for Disney and I always get extremely excited when I am given the chance to review Disney products for you all. Today we will be taking a closer look at Minnie ears from an Etsy shop called Make Me Minnie. I was lucky enough for her to send me an adorable pair of ears that I am absolutely in love with!
If any of you are familiar with Disney World, then you probably know all about Minnie Ears. They are extremely popular when visiting any of the Disney parks and most guests tend to wear them one visiting. I know when I attend Disney that ears are definitely one of my essentials for sure. I make sure I have a pair to match my outfits.
Disney World does have some that you can buy at their parks but I have never been a fan of them for a few reasons. They only have a select few to choose from and the ones that they do have I feel like everyone else wears them as well. I like standing out which is why I love these ears that she chose to send to me. I am obsessed with them. I love how different these are.
In case you couldn't tell these ears are based on a character from one of my favorite Disney movies, Toy Story. I'm sure the first picture posted in this blog post gave it away lol, Oh well! These are based on Lotso, which is truly one of my favorites! I was immediately drawn to these ears when I seen them posted on her site. I love how unique these are for sure.
I feel like lotso is one of those characters that isn't on a lot of merchandise and when I do find stuff with him on it I always tend to buy it lol. I think these ears are spot on to what he looks like for sure. He looks just like these ears doo! Even the fur on these ears looks just like his does! I am truly amazed. I love how comfortable these ears are to wear as well. I am a huge fan of ears like I said earlier but it's all about comfort for me. If they don't feel comfortable on my head then I wont wear them. I have had no issues with these at all. They are super light weight, and I can barely even feel them when I am wearing them. I have worn these a few times since I got them and I have gotten so many compliments on them too!!
Hands down one of my favorite pairs of ears that I own and that says a lot consdering I have such a huge collection of my own. I would like to thank Make me Minnie for being a part of my blog and sending me these pair of ears to share with you all. Make sure you check out her link down below and have a look at all the adorable and creative ears that she has listed in her shop!