Name: Tiffany Bridgwater-Rowe
Location: Visalia, Ca
Age: 39
Name of shop: Three P's In Our Pod
How'd you come up with the name of your shop: My maiden name is Pryor. Since my mom and sister both help to contribute to my shop I had this idea of us being the three P's. The rest just kind of originated from there.
How long has your shop been open: I opened under a different shop name in March 2013, but I didn't really start actively working on the store until last year.
What gave you the idea about opening an etsy shop: My poor beleaguered husband. I quit working full time in 2011 to return to school and work on a Master's Degree. For awhile I was much better at spending money than making money and most of the things I was purchasing were from Etsy. One day we were at a photo exhibit in San Diego and I made the obnoxious comment that I could do as well as some of the works which we were viewing and my husband jumped on that challenging me to sell some of my photographs.
Is this a hobby of your or do you do this full time?: A little bit of both. I try to dedicate as much time as I can to my shop and it's a lot of work. I haven't yet reached a point where I could consider it a full time job, but my goal is to reach that point. In the meantime I'm enjoying the journey, especially interacting and meeting such great people via blogs such as yours and other Etsy shop owners.
What kind of items do you sell in your shop:
Right now I have mostly photographs and artworks, but we also sell hand embroidered blankets. My mom started sewing baby blankets about 35 years ago when my oldest cousin and his wife had their first child. My mom wanted to give them something really special for the occasion and got this idea to sew them a blanket. Their nursery was done in baby animals so she made that the theme of her blanket and it was darling. Over the years she has created dozens of these keepsakes for friends and family and taught my sister and I to embroider along the way. Today we create blankets together and have given them to our friends for their first borns. The last one we did for a friend was comprised of the "girls from Disney." It included not just the princesses but also characters such as
Kim
Possible, Esmerelda, Vanellope from "Wreck It Ralph", Alice, Wendy, and others. It was adorable when it was finished.
Your favorite item that you sell: I would have to say the blankets. Although I'm particularly fond of the tiger, polar bear, and jellyfish photographs that I've taken over the years. Some of the shots I was able to get came out really well and I'm particularly proud of them.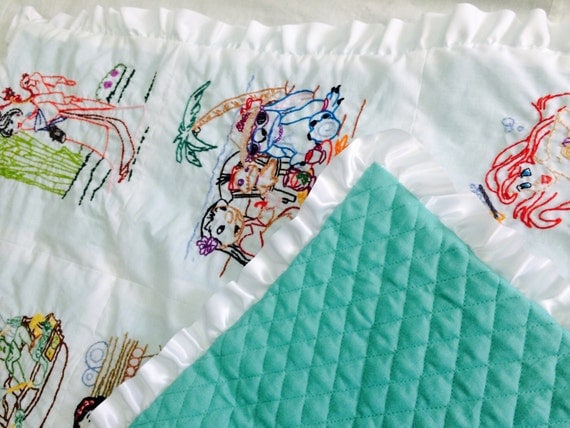 Something you want to happen to your shop in the future: I would love to start a photography blog to link back to my shop and one about embroidering, but so far I haven't found the time. It's on my to-do list though!
Do you have any plans for your shop products in the future: Tons! My mom is always telling me that I have more plans then time to do any of them.
If so what: Right now we're working on several new products to release in time for Christmas including ornaments, Christmas cards, and some hand embroidered Christmas themed items. We're hoping to roll them out by mid-October.
What is something you want your future customers to know about your shop: That we're extremely friendly and will customize anything to fit the consumer's needs. The blankets we sew are great because we can create just about any character or idea. We've had a request for a Nightmare Before Christmas one as well as one featuring characters from Nursery Rhymes like Little Bo Peep.
For my favorite item in this shop, I really didn't want to pick the same item of the shop owners, but in this case I just have too! I love this blanket, the amount of time, detail, and dedication they put into this blanket is incredible. I love how this blanket features a lot of different Disney movies, which is really unique. You can see in the pictures that I included that this blanket is gorgeous, each picture is perfect, no flaws. They look just like a real picture. I am truly in love with this piece by far!!!!
"