Name: Emily and Helbert
Location: Pembroke Pines, FL
Age: Emily is 24 years old and Helbert is 37 years old
Name of shop: Stools & Stuff
How'd you come up with the name of your shop: We originally created the Author's Throne (Charlie Brown Theme) for my classroom last year and thought of this as a business in March of 2015. Stools & Stuff signifies that we specialize in custom stool design and we will post various crafts and paintings from time to time.
How long has your shop been open: We opened our Etsy shop in July of 2015 :-)
What gave you the idea about opening an Etsy shop: I was in the classroom last year and always went over the top with my classroom theme. Upon finding the cutest handmade stool on Pinterest we figured we could easily replicate it since we were both artists. Well, Helbert surprised me with it and the kids and faculty LOVED it! They all wanted one. We immediately saw the potential of this becoming a side business. Unfortunately, when my mom was diagnosed with ALS last year, I made the tough decision of leaving the classroom to care for her. Eventually, I left my other part-time job and have recently transitioned to making Stools & Stuff my (Emily's) full-time job. It's been great so far!
Is this a hobby of your or do you do this full time?: Stools & Stuff will always be our hobby but I am currently working on it on a full-time basis while Helbert continues to work at his education job. We love painting our stools!
What kind of items do you sell in your shop: Mainly handcrafted, custom-painted stools but we have two paintings up that were created by Helbert. We will be posting more crafts and paintings as we create them.
Your favorite item that you sell: Our best-seller is The Cat in the Hat Stool but we love creating the customized and personalized stools.
Retails:($125.00)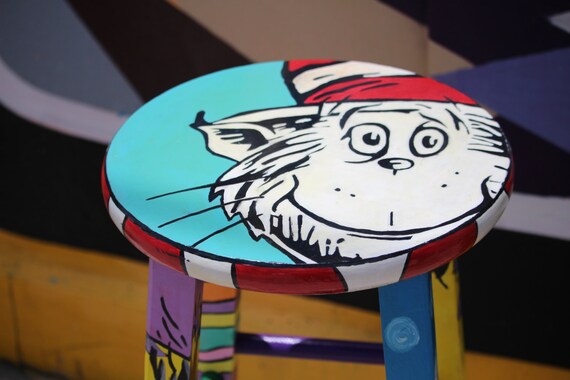 Something you want to happen to your shop in the future: We would like to have a steady flow of customers that truly appreciate our work. We also want our business to become well-known and respected among the art community in South Florida and throughout the country.
Do you have any plans for your shop products in the future: Actually yes! We are creating multiple
themes for inside and outside the classroom. Why stop at popular classroom themes?
If so what: We are going to start working on a College Football Line, Military Line, Classic Storybook Theme, a Young Learners Line, and personalized themes.
What is something you want your future customers to know about your shop: We will be constantly adding new themes to our site as well as new crafts or types of chairs. We can paint anything that has a surface (rocking chairs, bedroom furniture, cabinets, tables, etc.). Our style varies from customer to customer and we are very creative. Also, we will have different specials every month to give potential customers a discount for our stools!
This shop is super unique so when it came to picking a favorite product from this shop it was rather difficult. Everything in this shop is amazing, everything that is painted is so well done its incredible. I love everything they have done so far, but my favorite has got to be this one with the cute zebra on the seat. I also love the teal color they chose for this stool, it really makes the zebra pop!
I love how they included so many details, each leg is painted and looks like animal prints, these are adorable.
Retails:($125.00)