Location: Orange Park, Florida
Name of shop:
SparksEmporium


How'd you come up with the name of your shop: "Sparks" is actually the name of my & my husbands song. "Emporium" was fitting for a title word as I don't just make one type of thing; I make so many things and that's what emporiums carry, a variety.
How long has your shop been open: Just over three years total.
What gave you the idea about opening an etsy shop: I had heard of Etsy for years and figured it was my best platform to start off on. My full time shop is now
sparksemporium.bigcartel.com
.
Is this a hobby of your or do you do this full time?: This is something I do full time as I am a stay-at-home-mom to my little dude.
What kind of items do you sell in your shop: Mostly jewelry. Earrings, necklaces, bracelets, brooches etc. I will throw in some bows, head scarves and candles here and there too. I'm very inspired by Disney, Harry Potter and so many other fandoms.
Your favorite item that you sell: That's a super tough one. I put so much time, evergy and love into everything I do & my favorites change often. Right now I think it's these; my glass and druzy pieces.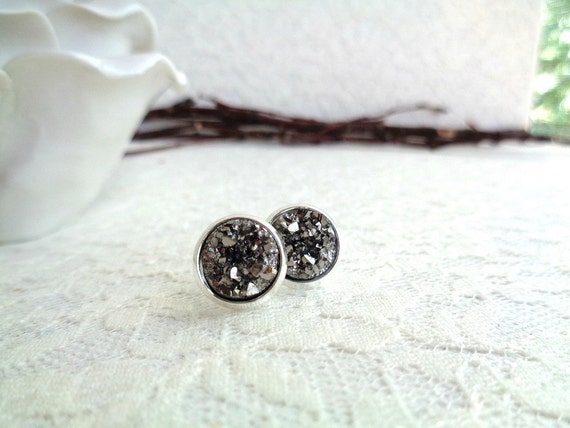 Something you want to happen to your shop in the future: I'd love to eventually have my own website at the very least. Big time dreams are to have my own store front.
Do you have any plans for your shop products in the future: I sure do.
If so what: I
t's best to show rather than speak. I have lots of things up my sleeve though.
What is something you want your future customers to know about your shop: I will always put you first and do my very best to make sure you are happy with the products I put out. Products that so many hours, tears and loads of love and thought went into creating.
My favorite item in this shop are these gorgeous mermaid scale earrings. I can't get over the true beauty in these. They are just gorgeous!. These look just like how I would imagine mermaid scale to look, these are perfect!
"● Wonderfully handmade.
● Vintage style pendant measures 30mm x 20mm.
● 12mm tray holds cabochon and hangs from lead free hooks.
● Not waterproof so please take care!
● Lead and nickle free setting. "