I received 2 jewelry pieces from a shop on etsy by the name of SeedyBeads
This first piece I received to review is a gorgeous bracelet. This is one of the most unique bracelets I have ever seen. I think you would consider this to be a small bangle. I was expecting this to be a really flexible bracelet, but it is not. This is really stiff and doesn't bend, which give it a bangle like feel to it. This is a pretty cool piece, if you look closely you can see that this bracelet is pretty much a hollow tube with beads in the middle. The beads in the center are actually little bitty skulls! I love this! It has a sorta punkish feel to it sense it is skulls. I love how versatile this piece will be. You can pretty much wear this with whatever as well. The colors in these skulls will be really easy to match outfits with.
I'd say this bracelet has a really good feel to it. It feels really strong and durable.
I decided to use one of the pictures that is in this shop so you can see
how cool these beads are!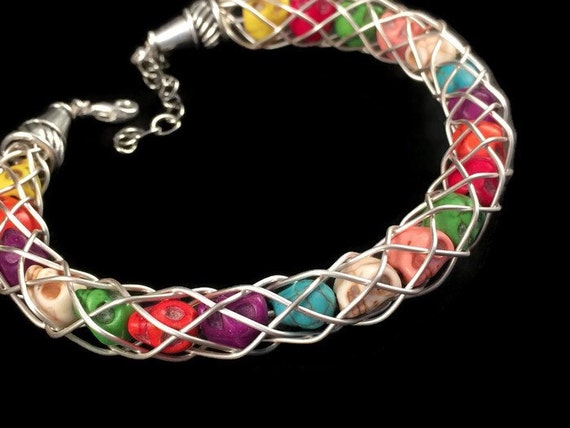 Up next is a beaded bracelet. I love this one as well. This is beautiful beaded bracelet. I love the colors she chose to make this bracelet with, they all go really nice with each other. Another thing I really like about this one is the clasp, I'm not sure you are able to tell from this picture but this one is not a lobster clasp, which I hate those lol. I'm not sure of the exact name of this one, but its a much easier one to use, especially if you are putting on your jewelry by yourself.
If you look closely at this one you can actually see all the beads that were used to make this one. It's incredible! each bead is super tiny, just by looking at these beads I'm able to tell how much time she put into making this one.
Make sure you check this shop out here: