Location: Wellington, Hereford, England
Name of shop: ArniesArtwork
How'd you come up with the name of your shop: I really wanted a name that wasn't restrictive and focused on one specific product because I can never tell where my creative brain will take me next. So by calling my shop Arnies Artwork I can encompass anything and everything that I create.
How long has your shop been open: I have been open about a year
What gave you the idea about opening an etsy shop: I was forced to leave my teaching career due to health reasons which meant I could no longer do a 'regular' job, I needed to work for myself so that if I suddenly became ill or needed time off I could do it without the worry of leaving people in the lurch. And so my etsy shop was born.
Is this a hobby of your or do you do this full time?: My etsy shop is now my only source of income so I do it full time. I am so appreciative of the fact I love what I do, saying it is full time implies there is ENOUGH time, but for me there are never enough hours in the day to be creative.
What kind of items do you sell in your shop: I sell a mixture of things ranging from hats and jewelry to painting and sculpture but they are all colourful and unique. I have a huge fascination with the Day of the Dead 'holiday'. I love their sugar skulls with the bright colours and patterns so a lot of my work is inspired by the festival. Each piece in my shop is lovingly created by myself and there are very rarely two items that are EXACTLY the same.
Your favorite item that you sell:That has to be my 3D skull money boxes. I just love creating them because they are not only decorative but useful too, they are simple functional art.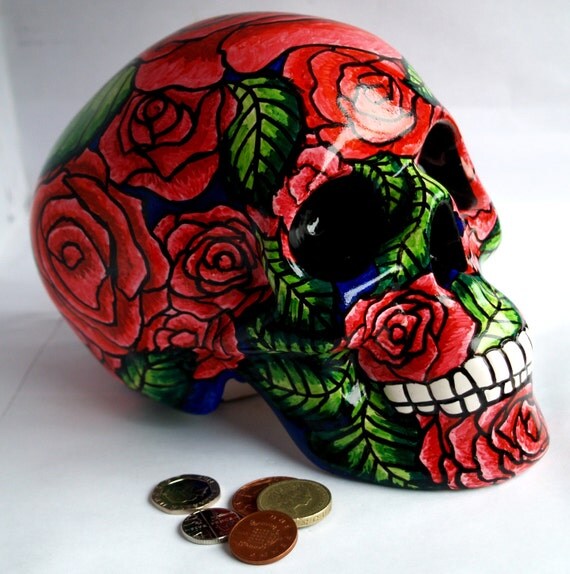 Something you want to happen to your shop in the future: I would love for my shop to become so popular that I would need to employ another artist to keep up with supply and demand. I would also love for Etsy to feature one or more of my products.
Do you have any plans for your shop products in the future: I am currently working on a range of 3D dragon trophies (similar to the ones by Dan from

) and some more awesome 3D skulls. The trouble is they often take about 40+ hours or so to make, so progress is slow but I am hopeful that I will be able to update my shop with these new products before Christmas.
What is something you want your future customers to know about your shop: I would like my customers to know and appreciate that everything I make is made or painted by me and me alone. My prices reflect the amount of time and love that goes into each product. For this reason my customers get an individual piece of art that will belong to them and they will have the satisfaction of knowing they will be the only ones in the whole wide world to own that specific creation, unless they have purchased a limited edition print. As a show of my appreciation to my customers I always give them 10% off their next order, if they are repeat customers, the discount gets bigger and better.
I also want my customers to know that I always give my best customer service and will work closely with them on any commissions to ensure they get what they want. I pride myself on having happy customers and would be mortified if I gave my customers anything less that 100% dedication. I always welcome questions about my products and do my best to accommodate customer requests and suggestions.
My favorite item for sale in this shop is probably these coasters. They are watercolor, which is just absolutely gorgeous. I've always been a huge fan of the watercolor look, in fact my first tattoo was a water color type, which is probably why I like this so much. The colors she chose for this are perfect. They all compliment each other nicely. These would make a great decor piece, pretty much anywhere and would be the perfect pop of color!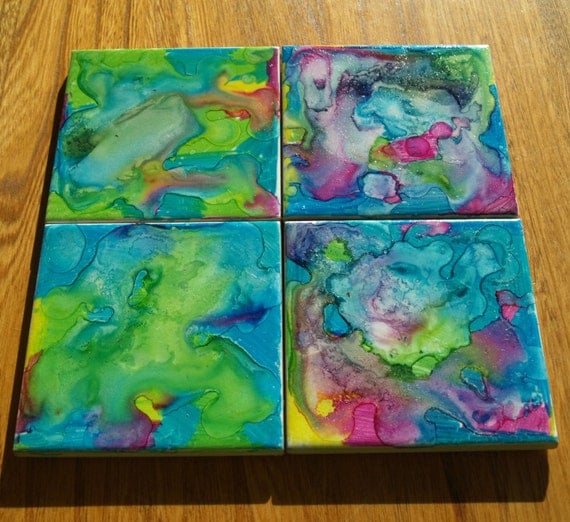 This shop is filled with all kinds of pieces, from jewelry, to decor, to paintings. You name it, I'm sure this shop will have it. All the items in this shop are really well made, there was a lot of time put into each and every piece and it truly shows. This shop owner is super friendly and super talented as well. I highly recommend checking this shop out for yourself!
Check out this shop here: