Name: Vicki Giger
Location: Tulsa, OK
Age: 62
Name of shop: My Stitching Corner (shows Grandma Stitching Corner but I am trying to change it)
How'd you come up with the name of your shop: Using needle and thread all my life has led me to many forms of sewing. I began making clothes for self and children (now grandchildren); cross stitching/embroidery; working with felt. I am always interested in a new project.
How long has your shop been open: 2013
What gave you the idea about opening an etsy shop: I was creating several felt activity books from Imagine Our Life (patterns and selling licenses) and decided to sell to those interested in activity/quiet books that also teach. It's a Montessori method of learning.
Is this a hobby of your or do you do this full time?: It is both. I retired this year to focus more on my sewing and crafting among other things.
What kind of items do you sell in your shop: Fabric, Felt items.
Your favorite item that you sell: I like the small felt dolls but I am preparing to post more fabric items that are useful to women. Not such a focus of items for children.
Retails:($20.00)
Something you want to happen to your shop in the future: To have enough sells to have a steady flow of money and share the items I create.
Do you have any plans for your shop products in the future: Yes
If so what: Not so many felt items and more fabric items. The felt items are hand sewn and the turnaround is longer.
What is something you want your future customers to know about your shop: I use quality fabrics (all components) and have been sewing since 5 yrs old; I have skill and knowledge to complete a project.
My favorite item that is for sale in this shop has got to be this adorable felt weather chart.
I think this would be the perfect piece to any classroom. I absolutely adore this piece.
Retails:($65.00)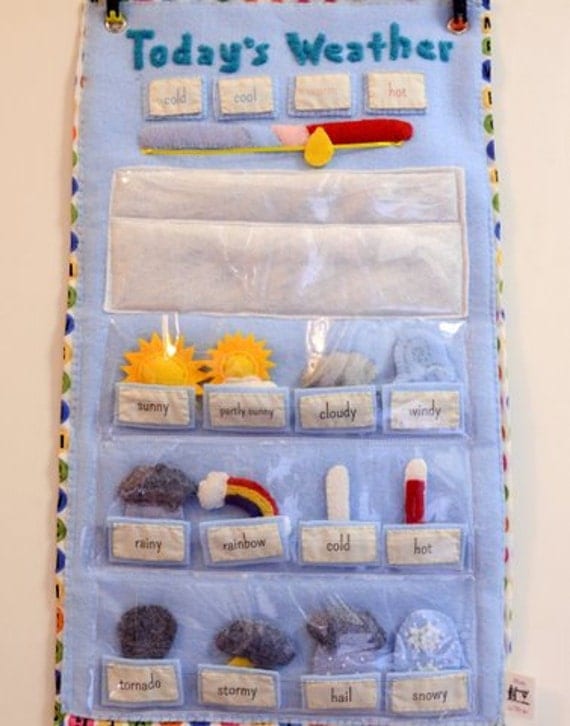 LCheck out here shop here:
and here website here: