Name of shop: Modern Mouse Boutique
How'd you come up with the name of your shop: My shop is an affiliate with my husband, Josh, and I's website and podcast called Modern Mouse Radio. When I decided to start the shop, it was a way to co-promote and also was a no brainer since I liked the name.
How long has your shop been open: My husband and I talked about it and tried a few things at the end of 2014 but the shop really started in January 2015.
What gave you the idea about opening an etsy shop: We saw the different mouse ears being sold at the Disney Parks and didn't find a pair that I liked because of how the style looked and the headbands Disney had were too tight for my head. My background in school is art and design so when I returned home I tried to make a pair for myself. I had painted before including doing some Disney artwork. I had previously had an Etsy shop for painted shoes and other artwork, but after deciding to try mouse ears I opted to only do those with the Modern Mouse Boutique shop.
Is this a hobby of yours or do you do this full time?:I was able to make this my full time job right away after a long discussion with my husband. We could financially support it for the first few months so if it didn't take off, I would go back to work. Luckily it worked out that Modern Mouse Boutique is my full time job. After 5 months, it was big enough that my husband was able to quit his job and the two of us now run it. He does all of the book work as well as packaging everything up and I design and make all of the headbands myself.
What kind of items do you sell in your shop: All of my items are mouse ears, the kind you might see at Walt Disney World or Disneyland. I've designed over 70 different styles created to hint at characters from different Disney films and theme park attractions, similar to that of Disney Bounding, but in just ear form.
Your favorite item that you sell: I'd never thought about it. I really enjoy many of my designs. When I'm on vacation, I'm a fan of unique looks so I've taken my Maleficent ears with me to Disneyland. Maybe I'd put that one in the category of favorites.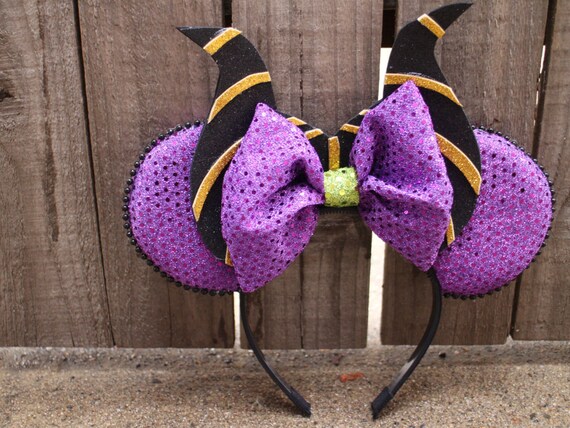 Something you want to happen to your shop in the future: I'd actually like to get into doing more conventions and expos. I stated that I'm currently in Colorado but the plan within the next year is to make the move to California and to be hosting a booth at conventions like Wonder Con, Comic Con, Dapper Day, and the D23 Expo.
Do you have any plans for your shop products in the future: I'd like to work with other sellers to create bundled packages with my ears that may include outfits or other accessories like necklaces or bracelets, but I'm always designing new and unique ears based on the Disney Universe.
What is something you want your future customers to know about your shop: I started my shop making a product I wanted for myself and I hold that standard. I'm always trying to top my last product and create something of quality that I would be satisfied with when getting in the mail from an online store. I'm always posting my products on my Instagram page (@ModernMouseBoutique) so I can get an idea of what people love and don't love and what I need to change in the future to always make something better.
My favorite Minnie ears that are for sale in this shop have got to be these adorable doughnut ones! I've never seen ears quite like this before! I love how colorful these ones are, they have a lot going on but there not super busy, which I like. I also really like the sparkley blue bow that is on these ones, its really pretty. My favorite thing about these have probably got to be that this are attached on a actual headband, and inside the headband it has those small teeth that glide through your hair and let it stay on better. I bet these stay in place really nic
ely, this shop has some beautiful pieces I suggest checking them out!
Retails:($25.99)