Name of shop:
Miranda's Loom
How'd you come up with the name of your shop:
The words "Miranda's Loom" kept repeating in a dream. In waking life, my fiber art business was coming together and choosing a name for it was on my mind. At the same time, I happened to be searching for a favorite childhood book. The title escaped me, though I remembered Miranda was central to the story. The dream gave me a business name that clicked, and I later found the book (The Ghost Next Door by Wylie Folk St. John)!
How long has your shop been open:
I opened my shop nine years ago.
What gave you the idea about opening an etsy shop:
My primary shop is mirandasloom.com. After investigating online sales tools, I added an etsy shop to drive more traffic to my business.
Is this a hobby of yours or do you do this full time:
Miranda's Loom started as a part-time endeavor and is now happily full-time.
What kind of items do you sell in your shop:
Handwoven coverlets, scarves, wraps, rugs, etc. My etsy shop also carries my mandala art.
Your favorite item that you sell:
It varies and is usually whatever I'm working on at the time. I like to make short series and then change focus to keep my work fresh. Complex weaves and lots of color excite me.
Retails:($44.00)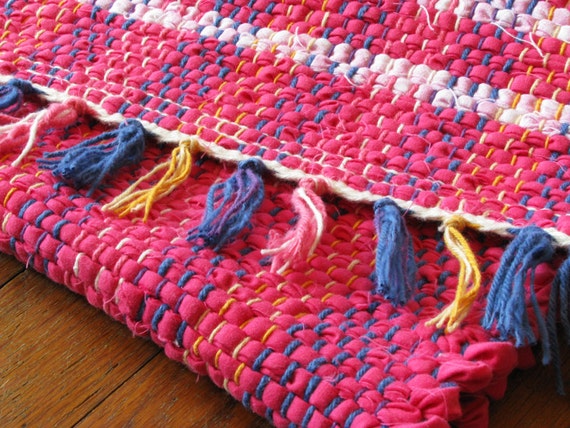 Something you want to happen to your shop in the future:
I'd like my shop to magically market itself and leave me to just create and meet people online and at shows. Ha! But really, if word of mouth, repeat customers, and online searches continue to increase business, I'll be grateful.
Do you have any plans for your shop products in the future:
Yes! Lots of ideas for larger pieces with intricate patterns and lots of color are in the planning stages now. Some really cool, collaborative, custom work is currently on my looms. As soon as I weave those off, the new work will begin!
What is something you want your future customers to know about your shop:
Hand crafted pieces have personality and heart that manufactured items cannot. Supporting small business artisans gives the customer more value, and contributes to a healthier culture and economy.
Incorporating Eco-friendly fibers and re-purposed material into my work is important to me.
I pay close attention to detail and communication because win-win interactions are my goal. Happy and satisfied customers make my work joyful and worthwhile.
This shop is packed with lots of awesome pieces, but for my favorite one in the entire shop I had to go with these adorable finger puppets, these are just so cute, and you can also tell that she put a lot of time into making these which is awesome!
"These finger puppets are adorable in endless skits, decoration, and even as wine bottle toppers! The best part of these little characters is watching the laughter they bring, especially when popping off the hat. Custom design your puppet(s) by choosing the clothing, skin, eye and hair colors from the charts pictured. They make delightful gifts for children, adults, family groups, classmates, teachers and co-workers.
***Be sure to type your eye and hair color choices in the 'note to Miranda's Loom' section.
Each order is for one puppet including a hat."
Retails:($14.50)