Name: Kyleen
Location: Orlando, FL
Name of shop:
MalifAccents
How'd you come up with the name of your shop:
I wanted to come up with something unique but still relatable to the products that I was selling.
How long has your shop been open:
What gave you the idea about opening an etsy shop:
While visiting the WDW parks, I was never satisfied with the limited selection of ears that were sold, and they hurt your head if you wore them all day. I wanted to used my creative abilities to provide a wider selection of ears, while still making them affordable and comfortable!
Is this a hobby of yours or do you do this full time?:
I would consider it more of a part-time job. I currently attend college full time, work two part-time jobs, work an internship with a record company, AND run my etsy store! With my untraditional college schedule it is hard for my to work a normal job as often as I need to in order to support myself, so I started making ears as another source of income that I could do whenever I had spare time!

What kind of items do you sell in your shop:
Right now I offer a variety of ear designs from NFL teams, Disney characters, Halloween designs, and many others.

Your favorite item that you sell: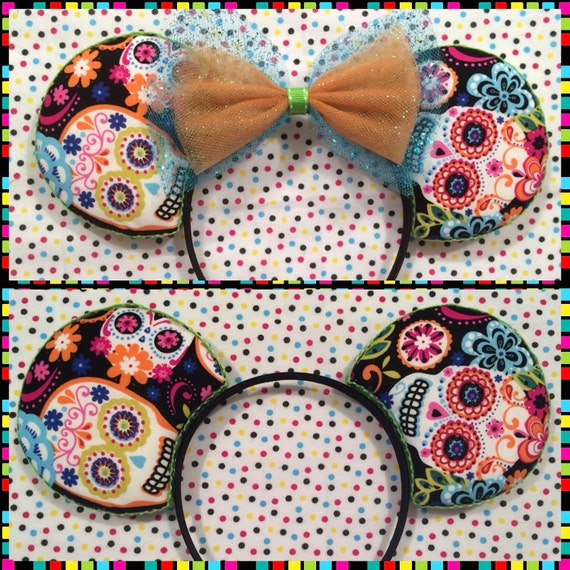 and a pair of UP ears that I just finished that hasn't been put up on the shop yet.
Something you want to happen to your shop in the future:
I want to be able to continue to grow my shop and design more unique and affordable styles! I would love to collaborate with other shops ( jewelry, bows, art, etc).
Do you have any plans for your shop products in the future:
I have more designs in the works as I type this, and am working as fast as my schedule will allow to crank out new designs every week!
What is something you want your future customers to know about your shop:
I want them to know that I put a lot
of passion and effort into making the best product I can for my customers! I want them to be able to show off their creativity through my creativity whenever they are wearing my ears!
My favorite pair of ears that are for sale in this shop are these adorable princess ones. I just love these for a lot of reasons. I really like them because this pair of ears has all of the princesses on them which is pretty cool, I haven't seen that done before. I also really like the bow in the middle of these. It looks like its made out of tulle, and it looks like it has a little shimmer to it which is really pretty.
These ears feature: Cinderella, Belle,and Tiana on one ear, Snow White, Aurora, and Rapunzel on the other.
Each item is handmade and unique, so no two items are completely identical. Please keep in mind that fabric print may vary slightly than what is shown depending on pattern.