Name: Nicki and Zoe Gwizdak (mom & daughter)
Name of shop: Gwizzy Ears
How we got our name: Gwizzy was a nickname that Zoe's friends gave her. We thought it was cute and original.
How long has shop been open: 1 year
What gave us the idea: Zoe came up with the idea and I thought it sounded like something fun for us to do together. We have been Disney obsessed for years so this was a way to get creative with something that we loved.
Is this a hobby: yes. I have a full time job as a Gymnastics Coach and Zoe has school and a tutor job. This is a fun hobby for us to share with each other. I love getting together and coming up with new ideas.
Items: currently we sell custom mouse ears and headbands with bows on them.
Favorite item: hmmm, that's a hard question. Every time we come up with a new ear, that one becomes my favorite. We did make a custom pair that are not in our Etsy store. We made a pair of Alice ears with her dress design on the front and the Cheshire cat on the back and they said "we're all mad here". We keep meaning to make another pair and add them to our shop. If I were to pick one from site, I'd have to say the Peter Pan ears.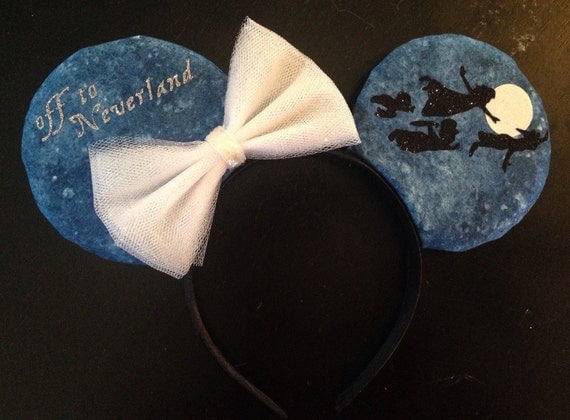 In the future: I just wa
nt to keep coming up with more designs for our ears. I'd love to get more followers on our Instagram site.
Plans for future products: I have made several cross body cell phone purses that match some of our ears. I'd like to add those for sale soon. I also just made our first draw string back pack. It was super easy to make and I'd love to sell those as well.
Future customers to know: We are loving what we do! My favorite part is getting the positive reviews/feedback and seeing customer pics with our ears! Can't wait to get the new items up and see how people like them.
There are so many great ears in this shop and I had an extremely hard time picking out my favorite ones, but I decided to go with these. They are beautiful!!! I have never seen ears quite like this before. These ears have fireworks on the ears and in the middle of thee bow there is the castle. I love these, they would be perfect to wear with any Disney outfit really because they have so many colors in them!:) and of course I love how the bow in the center of these is pink :)