Amanda Robins.
When I started selling my jewelry at artisan markets the expression on women and girls' faces seemed to say "Gimme that thing!" There was a very catchy song around in the 1970s that had 'Gimme that thing' as its hook line and that's how my shop name came about.
I joined Etsy in 2010 but I didn't have the confidence to actually list my items there until the following year.
I'd been selling on a British site called Folksy for a year before opening an Etsy shop. I'd heard great things about it from other sellers and I just thought what have I got to lose - either it works for me or it doesn't and there's only one way to find out. I really wanted to start selling globally and Etsy was the obvious choice for reaching an international market.
Jewelry making started as a hobby when I broke my back falling off my horse six years ago. I'd been a ceramicist until then but the big bags of clay were now too heavy for me to lift. My young daughter was playing around making beaded bracelets on threads and we started looking at gemstones together and online technique tutorials for wire wrapped rings and then friends started buying my designs.
My jewelry business is very much a part time job. Because there are so many wonderful handmade jewelry businesses out there it is very difficult to be full time. I'm also a dance fitness instructor and training to be a yoga teacher.
I sell wire wrapped gemstone rings and earrings, retro 1950s style earrings, boho verdigris patina chunky cuff bracelets and earrings.
My favourite item is a boho patina brass cuff bracelet that reminds me of the power cuffs that the character Wonder Woman wears. I kept the first one that I ever made and it gets a lot of attention when I wear it.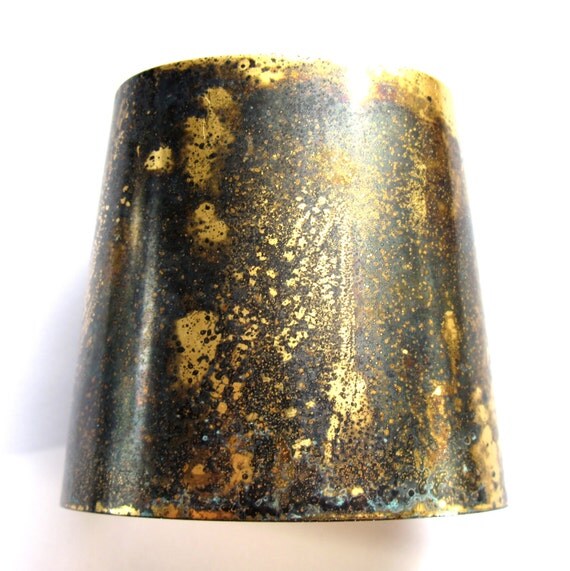 I've been accepted to open a shop with the new Handmade at Amazon as soon as it is up and running. This is a very exciting opportunity for me and I'll be adding some new designs such as quirky cuff links for men.
I do stock a few bricks and mortar shops in UK. I'd like to stock a few more in the future and also sell online in a wholesale capacity.
I want my future customers to know that when they purchase my products they are buying quality items that are all handmade by me. I don't outsource my work and because of this I'm able to ensure that each item is to the best standard. I also offer an excellent customer service and am always happy to have a dialogue with my customers and for them to get to know me and build up a relationship based on trust. I think this is very important for small businesses. The large companies that we all know and purchase from can't offer this kind of one-to-one service in such depth.
My favorite item that is listed in this shop are these earrings.
They are beautiful, I just love these. They really make me think of Barbie, there really girly, which
I really like!
"These rose pink claw set heart earrings are a very feminine classic design that is a lovely piece of fashion jewelry for any occasion.
The rose pink claw set heart in these elegant retro earrings have a vintage look and measure 13 x 11 mm. They are encased in antiqued brass claw settings and hang from handmade brass ear wires which are nickel free / lead free and suitable for sensitive skin.
Overall length from top of earwires 25 mm."
Retails:($12.50)