Name: Christina Batchelor
Location: Lytham, United Kingdom
How'd you come up with the name of your shop: It took many months of agonizing over a name but eventually my husband came up with 'Doodlebump'
How long has your shop been open: I have been selling online through my website www.doodlebump.com from November 2012 and started selling on Etsy in December 2012
What gave you the idea about opening an Etsy shop: I have purchased a number of items on Etsy before I opened my shop and it seemed like a great community and a great way of getting my makes out there!
Is this a hobby of yours or do you do this full time?: I work on Doodlebump full time whilst working around my son.
What kind of items do you sell in your shop: Personalized Prints, cards and paper goods for kids
Your favorite item that you sell: That is a hard question as I love creating all of my prints and cards. I do love creating my prints, and I adore elephants so this print is a keen favorite as they are a one of a kind unique gift for someone and I love to think I am creating someones special keepsake.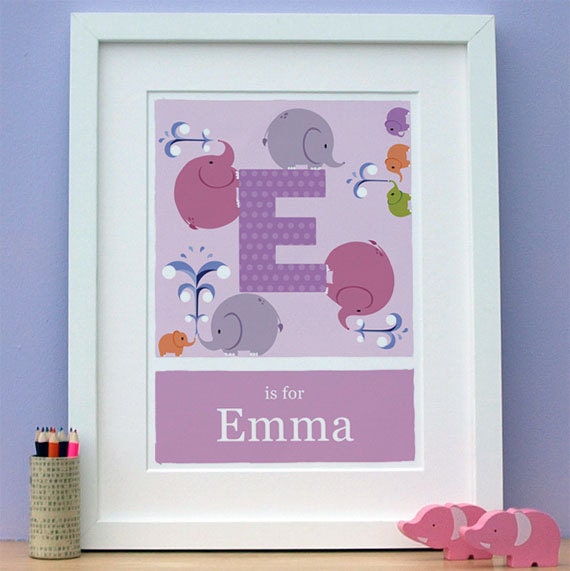 Something you want to happen to your shop in the future: I would love to be selling art, cards and stationary wholesale as well as online and also to be able to do illustrations for a few children's books as well!
Do you have any plans for your shop products in the future: Yes so many sometimes, I don't have room in my head for all the ideas!
If so what: I want to create invitations, cushions and many more personalized paper goods to feed kids imaginations!
What is something you want your future customers to know about your shop: Every print, card and stationary item in my store is designed by me from scratch and is giclée printed with pigment inks so will last a very long time! Each item is unique and can be personalized by you. I love custom orders, so if you like what you see but want something more bespoke please contact me.
Check out here shop here: