Name: Jen Howell
Name of shop: Peace, Love, and Knotty Hemp
How'd you come up with the name of your shop: Honestly, I just felt like it fit. I went over different names and it took a little while, but I wanted something that was catchy, and fun. 95% of the jewelry I sell is made with hemp, so it seemed to fit nicely.
How long has your shop been open: I opened my Etsy shop in 2013, but I was selling for about a year or so before creating my shop.
What gave you the idea about opening an Etsy shop: I had heard a lot about the site, and I was using other places to barter and trade my jewelry, so I decided to try Etsy to see what would happen.
Is this a hobby of your or do you do this full time?: This is full-time for me. I am also a single mother and a full-time student, so I really try to spend as much time as possible on my shop, but some weeks I have more time than others.
What kind of items do you sell in your shop: I sell handcrafted macrame jewelry, made with hemp. I offer necklaces, bracelets, anklets, watches, barefoot sandals, keychains (although currently I do not have any available). I also have wire wrapped necklaces,earrings, handmade wire statement rings, nested rings, and I have mystery bags!
Your favorite item that you sell: Honestly, I don't have a favorite. I love all of the jewelry I sell and I mainly sell one of a kind items, unless I have a custom order request for multiples of the same item. I think having a special one of a kind piece of jewelry to offer is better than busting out 500 of the same item. One of a kind items give more of a personal touch.
Something you want to happen to your shop in the future: Well I currently have my own website in the works. Not sure when I will have it ready to go, but hopefully it will be coming in the following months.
Do you have any plans for your shop products in the future: I plan to expand the items I sell in my shop, with more handmade products. Nothing is finalized yet, but I have a ton of ideas!
What is something you want your future customers to know about your shop: Everything I have for sale has been handcrafted by me, and made with lots of love! I want nothing more than to have happy customers who love their purchases. It makes me insanely happy to hear of people enjoying their new stuff from my shop. I make jewelry for everyone, including children (currently children's jewelry is only available with a custom order) I think that people have this thought that hemp jewelry is only for hippies, and I strive to tear down that kind of thinking. Hemp is a sustainable product and it can make beautiful things, for everyone!
My favorite item that is for sale in this shop has got to be this beautiful hemp anklet. I love the simplicitiy of this anklet and I also love how its pink as well. I'm in love with this pink beads they have a really cool crackle effect on them, which is super unique and pretty awesome. I love this anklet and this woul be perfect for summer, to show off on the beach :)
Retails:($12.00)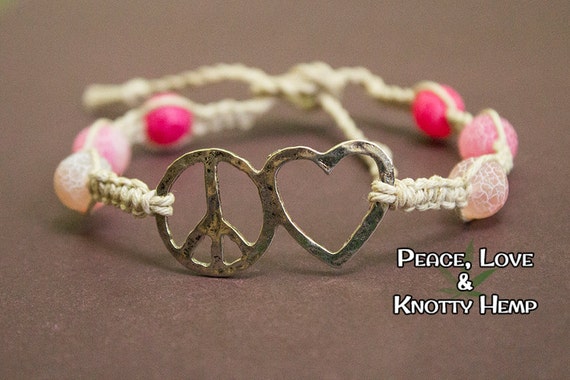 Make sure you check her shop out here: