Name: Hazel Williams
Location: Princes Risborough, UK
Age: 38
Name of shop: Hazel Williams - Laser Cut Designs
How'd you come up with the name of your shop: It's not very creative I'm afraid! I started out doing local craft fairs and wanted my business name to make it clear what my business was about: my name so people know the products were designed by me rather than bought in; and 'laser cut' because that's the common factor that links all my designs.
How long has your shop been open: Two years
What gave you the idea about opening an etsy shop: Etsy was recommended to me by other established artists because of its international reach and the quality of the products. Laser cutting lends itself to online selling as each item is made to order and can be personalized for the customer.
Is this a hobby of your or do you do this full time?: This is now my full time job. I tried doing it as a hobby alongside doing a 'proper' office-based job but laser cutting is expensive and I knew if I was going to make a go of it I needed to invest in my own machine and take a leap of faith.
What kind of items do you sell in your shop: I mostly work with wood, mirrored acrylic and duplex card, and love creating 3D designs which can create shadows and patterns when lit or hung around the house. In my Etsy shop I sell my wooden house nightlights, Christmas tree decorations, coasters and greeting cards. In the next couple of months I'll be adding my new Christmas lines....
Your favorite item that you sell: I think the largest of the three nightlight houses is my favorite. I love the detail on the sides as it looks lovely when lit up.
Retails:(20.00)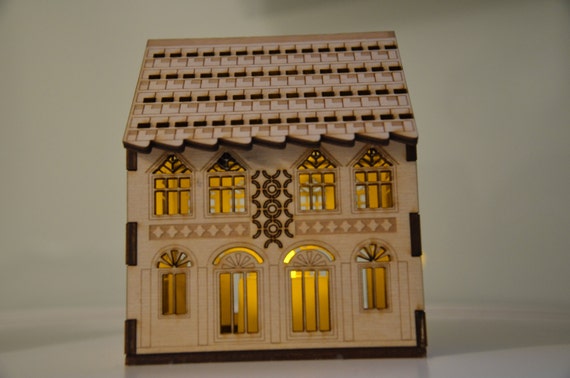 Something you want to happen to your shop in the future: I would like to expand it to include more of the designs I sell over here in the UK. One of my most popular lines is my 'Laser Tweets' - wood and acrylic bird decorations which are etched with text. At the moment I only sell these at events or on Folksy (the UK version of Etsy)
Do you have any plans for your shop products in the future: Loads!
If so what: At the moment it's all about the build up to Christmas. I'm just finishing off two new wooden nightlights - a townhouse and a thatched cottage. I'm also going to put up my personalised tree decorations. Looking further ahead I'm going to take part in my first trade fair next spring so I can start selling direct to shops.
What is something you want your future customers to know about your shop: The designs listed in the shop can all be personalized or used as a spring board for other ideas. For instance, the wooden decorations inspired a range of bespoke designs for the Royal Botanic Gardens at Kew which we are now selling in their gift shop in London. Feel free to suggest ideas for new designs!
My favorite item in this shop has got to be this gorgeous nightlight castle. I didn't want to pick the same item as the shop owner, but in this case I just had too. This is beyond gorgeous, and all the details that are in this are just beautiful! I'm amazed with the craftsmanship of these!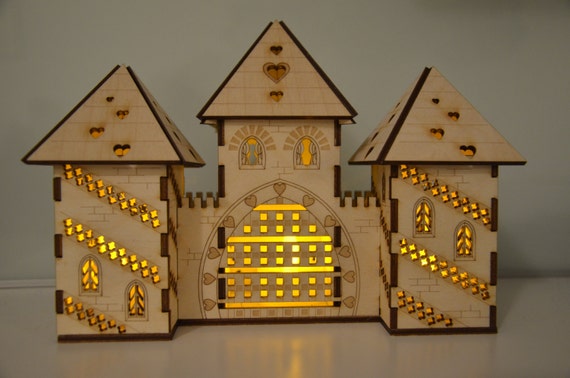 Check the shop out here: